Windows server 2019 now available
Windows server 2019 with more secure environment now available at rainhost.net. You can get 180 days trial version on both of your RainHost's VPS or dedicated servers.
Why you should move to windows server 2019?
Answer of this question in one word is security! because fo it has built in protection against recent ransomware and others threats which was affected millions of computer worldwide.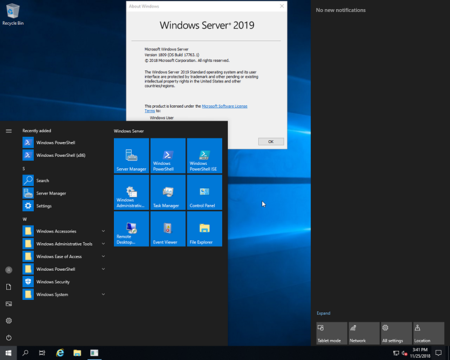 What's new in Windows Server 2019 According to Microsoft:
Windows Defender Advanced Threat Protection (ATP) with Attack Surface Reduction(ASR), Network protection , Controlled folder access , Exploit protection , Windows Defender Application Control,
HTTP/2 for safer & faster Web,
Now You can able Mograte storage,
Fail over Clustering service,
Now Linux containers on Windows will let you run both Windows and Linux server on same container,
Encrypted Networks,
Improvements on Network performance for virtual workloads,
SDN gateways performance improvement,
New Deployment UI and Windows Admin Center extension for SDN,
Persistent Memory support for Hyper-V VMs
For more details on what's new on on Windows Server 2019 please see Microsoft site post here.
You can order you Windows server 2019 VPS here and dedicated server here.